Wireless Network Setup in Luxembourg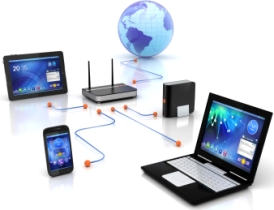 Quite a few people are capable of setting up a computer network. But, even they sometimes run into problems. When these situations arise, it is good to know that Get PC Help technicians have your back and can resolve any computer networking issues you might experience in a fast and professional manner.
What Computer Networking Is
Many people think of computer networking only in terms of the process involved to set up wireless network. The fact is, it is much more basic than that. Computer networking is creating the ability for multiple computers or peripherals, like printers or scanners, to communicate effectively with each other.
Reasons To Set Up Wireless Network
Often a home or small business in Luxembourg will set up wireless network to make things easier. Basically, a wireless network takes the connection that is created with Ethernet cables and broadcasts it in a small area. This allows computers and some peripherals to connect to the network without using cables.
Here are some the reasons a wireless network would be desirable:
Fewer cables to trip over
Rooms look cleaner without cables and wires running everywhere
Increased mobility because your are not limited by the length of a cable
Adding computers and devices to the network is fast and easy
Computer Networking In Luxembourg
Whether you need to set up wireless network or troubleshoot a computer networking problem, Get PC Help computer technicians in Luxembourg are ready to lend a hand. We have been setting up and maintaining networks for individuals and small businesses all over the Luxembourg area for years.
We can assess your needs and recommend equipment, like routers, switches and other devices, you need to have a fast and reliable computer network. We will even provide the training and education you need to make sure your information and computers remain secure on your computer network.
If you have already set up wireless network and are having issues, Get PC Help can visit your location and quickly identify the cause of your Wi-Fi network problems. Our computer experts can have your network back up in record time. We also provide PC and Mac repair services in Luxembourg.